There's nothing we love more than showing off our incredible clients, especially after we've had the fortune of partnering with them on a project. Our team is lucky to work for a company that places great importance in working with non-profits, as well as pursuing work that has a larger meaning. In fact, our latest project also holds a special place in the heart of DreamBig founder, Veronica Gagnelius. Veronica began volunteering her design work for Wounded Heroes of America back in 2002. Since then, the foundation has grown and they recently reached out to our team to help with their website redesign. We are so excited to share the new Wounded Heroes of America website with the rest of the world and hope you see the passion and inspiration that our team felt as we worked on this project.
Building A Strong Design Foundation: 
This cause deserved a design as strong as the men and women that gave their energy and lives for their country. So, we set out to create a design to showcase the importance and emotion behind Wounded Heroes of America. WHOA founder, Mike Talleda, wanted to tell the story of the veterans and families the foundation supports and why the work is so important. For us to bring the story to life, we let imagery and long scroll do the talking. We favored simplicity and a "storybook" feel to ensure that viewers would truly get an understanding of WHOA's mission.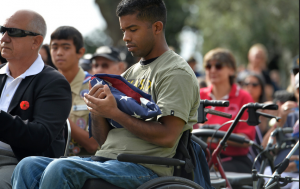 The Goal:
Though we love to redesign websites, and absolutely love to work with nonprofits – the ultimate goal for the team was to raise awareness and inform people of the hardships and difficulties that many veterans and their families face.
Breaking it down:
Over 48,000 servicemen and women have been physically injured in the recent military conflicts. 
In addition to the physical wounds, it is estimated as many as 400,000 service members live with the invisible wounds of war including combat-related stress, major depression, and post-traumatic stress disorder. 
Another 320,000 are believed to have experienced a traumatic brain injury while on deployment.
After leaving an already difficult environment, veterans and families don't always receive the sufficient medical, financial or emotional care that they need. Many can end up homeless, or suffering more than they did before.
What makes WHOA different?
Many non-profits typically fundraise or receive donations, and disperse the money throughout the cause. WHOA not only does that, but takes it one step further. The foundation provides a network and community of veterans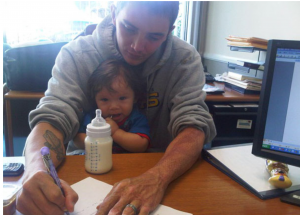 that can lean on each other for support. They also create connections for businesses and leaders to mentor and develop the skills these veterans need to move forward with their lives, both personally and professionally. Mike Talleda has put his heart and soul into growing and molding this foundation into an organization that truly helps and changes the lives of wounded veterans and their families. Much like the veterans themselves, he has given his all for other people. Though he has grown and continues to grow the organization, he can't do it alone. Please consider helping WHOA in any way you can, and keeping up to date with the progress and stories as they continue their success.
If you'd like to donate or purchase a t-shirt from their store and change the lives of the men and women who were injured serving our country, please click here.