Woolley's Steakhouse came to us in need of a restaurant website redesign. Their website was outdated, not responsive and poorly designed. Further more the website was hard to update and maintain. They wanted a modern, responsive style design that would help to reinvent their image and be easy to update.
We created a unique website design that featuring a large hero slideshow on the homepage showing beautiful photos of their delicious food. We kept the overall layout simple and easy to navigate. The website tells the full story of the restaurant, which has been around since 1986. We development the website in WordPress so it's extremely easy for the client to maintain and update.
Since 1986, Woolley's Steakhouse has been known for mouth watering steaks, fresh fish, seafood – and outstanding service. The interior is filled with real plants, flowers and trees; while outside a scenic waterfall and beautiful stream flow past. The open-air gazebo and cozy booths complement all types of occasions; business, romantic, celebrations, or just going out for a satisfying dinner. Because of our unmatched commitment to food quality and service, our guests consider Woolley's to be Bloomington's premier steakhouse.
Checkout the before :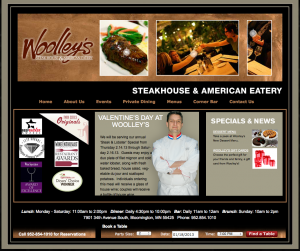 and after the website redesign here: woolleysrestaurant.com