Imagine rolling out of bed, grabbing your coffee and laptop and heading to the front porch to start your workday. Fast forward to later in the day, you have a conference call while walking the dog. Then you head over to your favorite brewery and grab a beer to read over your client's project feedback. No barriers to creativity, and the whole world as your office. These are the work days that we lead, and that we love.
DreamBig Founder, Veronica Gagnelius, has worked in her fair share of cubicles throughout her career, and later vowed to find a new way to give her own employees as much creative and environmental freedom as possible. Her vision came to life as she started the DreamBig agency and put together a virtual office, where the team could be free to create where ever and whenever fit their own inspirational schedules.
"I found it very hard to be creative in such a cold environment. When I was starting my own agency, I wanted to make sure that my designers felt inspired and not boxed in…so that they truly want to produce good work, not because they are on the clock but because they get to work in such a fun, carefree environment. Many agencies say they think "outside the box", but we really are "outside the box". I hope the virtual office lifestyle inspires my team to care more about their work, and so far the results have been great."
So, wha
t keeps our staff constantly fresh on ideas and inspired to create the best websites, content and graphics? We don't spend our days in any designated location, secretly willing our cube mates to stop chewing so loudly, or fearing that our office lives are gradually becoming a little too similar to those in Office Space. Instead, our team works from all over Minnesota – coffee shops, couches, anywhere we please and anytime we please. After all, WiFi never sleeps! While more and more leaders are realizing their staff won't always find their best ideas or inspiration in an office space within the hours of 9 to 5, DreamBig is already paving the way for creatives.
We think remarkable brands deserve remarkable ideas. 
With no confined spaces or hours, our team is able to settle into an individual, natural and comfortable environment that promotes productivity and creativity. We take our work very seriously, and each member has his or her own preferred space and method to produce the best results possible for each project. Fast Company researched this phenomenon, and proved that taking breaks, going outside, and doing the things we like allows us to engage the sensory parts of our brains and stay inventive. By allowing each employee to thrive in their favorite environment, we create a happy team that stays passionate. Passionate teams create remarkable work for our clients.
We really can hire the best.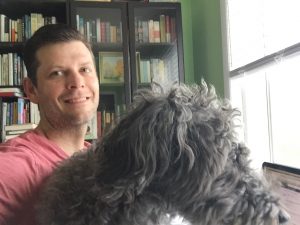 Although our team meets up regularly to go over projects, tasks and even to bond with our co-workers, we tend to find ourselves feeling as if we're meeting up with old friends. When you're talking shop over a drinks on the patio, conversations and ideas flow without even trying. Our virtual lifestyle also means we don't have to worry about commute or relocation concerns. "Having the freedom to choose where I research and interact with potential clients keeps things fun and fresh for me. I absolutely love the work culture at DreamBig and if I want to pet my dog while talking to a client, I can." said Shane McCaffrey, Account Executive. While DreamBig is growing rapidly, we've seen the company become more successful for exactly those reasons: each person is excited about the work they do, and also equally excited about being able to do that work in any environment that inspires them.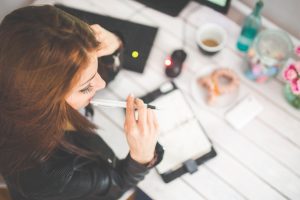 Our clients know we really care. 
Sometimes waking up early, sitting in traffic and then being confined to a cube all day can make employees frustrated, and that can show in their work. Our clients know that we're in the best work environment to suit our individual skills and personalities. That means we work longer and harder, and that doesn't bother us. We don't stare at the clock waiting for it to be 5PM so we can rush home; we sometimes get lost in our work and realize we logged a 10-12 hour day without even realizing it. Are we mad about it? Not at all – we spent that time caring for our clients, not sitting in traffic.
Saving money, then reallocating it. 
Obviously it's not all about the employees, there's added benefits for company owners, especially when it comes to finances.With over 3.7 million employees that now work from home at least half the time (Global Work Place Analytics), companies are realizing the financial gains from this trend. Going even further and having a virtual office eliminates many overhead costs, including maintaining an office, buying supplies and keeping up with the ridiculous amounts of coffee that our team consumes. In 2014, Entrepreneur online told us that employers could save at least $11,000 a year just by allowing employees to telecommute. With a virtual office, DreamBig can reallocate those expenses into the best equipment and tools so we can design beautiful interactive websites and graphics for our wonderful clients. An added bonus? It means we can charge less for our services and work with a variety of businesses. It also means we can go for that fourth cup of coffee with no judgmental stares.
The creative world is always changing, and everyone in it is trying to stay ahead of the trends. DreamBig Creative spends less time worrying about how to keep our office culture inviting and exciting, and more time learning about how we can push our clients forward and continue innovating for their needs, not our own. With a Minneapolis base, we are lucky to have hundreds of options that act as our office for the day and pull inspiration from. As of now, we thrive in our virtual office and anticipate our digital expertise to grow rapidly as we continue to stay passionate and excited with our careers.