Small & Tall Grooming was founded to provide a dog grooming alternative that puts the comfort and safety of your pet first, while delivering a dash of flair with each haircut. We maintain a quiet, low-key environment while focusing on quality service to help each pet look and feel its best. Small & Tall Grooming came to us in need of a new modern brand identity and website design that would make them look like experts in their field and help them stand out from the competition.We crea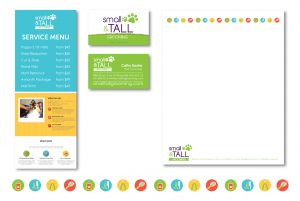 ted a fun, modern logo that is memorable and appeals to dog owners and showcases Small & Tall Grooming as the experts on dog grooming. The bright green and purple color scheme and fun modern font choices create a warm an inviting feeling. The paw prints drive the message that they specializing in dog grooming. The rest of the brand identity follows the same bold fun style. We created a set of four icons to represent their services.
Once the brand identity design was complete,  we designed a fun, colorful, modern, clean, responsive style website that is easy to navigate. The website uses a simple clean style layout, which creates a great user experience. We focused on promoting and explaining their service in an easy to digest way. The user can easily understand exactly whatSmall & Tall Grooming offers. We created the website in WordPress so it's easy for the client to update and maintain.
Check out the new unique website design at: smalltallgrooming.com