These Minnesota companies are leading the way in bold branding and forward thinking. Is it time for your company's brand refresh?
Love your Melon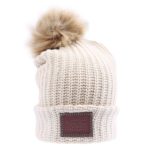 A classroom assignment-turned Start-Up, Love your Melon was founded in 2012 by Zachary Quinn and Brian Keller with a mission to fight cancer with love. The company sells apparel, and donates 50% of its proceeds to aid children afflicted by cancer. By 2016, this Start-Up seed had blossomed into a thriving company with a valuation of $20 million. So just how did this brand unlock such sweet successes in such a short timeframe? The key is having the right social media ambassadors. Love your Melon brands itself across a variety of platforms, including Facebook, Instagram, YouTube, and Twitter. Love your Melon's social media game is strong because of the way the company's ambassadors are able to effectively attach its message to its brand. By constantly keeping up its social media game, Love your Melon's content has been able to effectively capture its audience's attention, generating remarkable conversion rates.
Takeaway tip: Find the right ambassadors to support your brand via social media
Jack Link's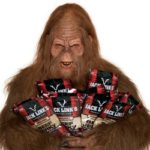 Jack Link's Beef Jerky is known for its iconic "Feed Your Wild Side" commercials, where sasquatch stands as the central focus. These commercials are widely embraced by the public, and surely stand as a defining feature of this brand. Recently, Jack Link's has decided to alter the lens of its brand from simply jerky, and instead become a dominant force in the protein snacking industry. The shift from jerky to protein snacking has also prompted Jack Link's to change its marketing strategy, with the brand shifting the spotlight from men to women and millennial consumers. Jack Links uses it's bold design throughout all it's various marketing channels including their corporate report. Rather than sticking to the usual, boring block-text corporate report, this brand decided to do something disruptive and bold. That's why Jack Link's chose to partner with our team, so that together we could craft the perfect infographics that made this corporate report design pop. With our aid, this brand achieved something that many view impossible: make a corporate report exciting. The combination of Jack Link's decision to take its brand to the next level, to focus on a new demographic, and to make a unique corporate report with infographics, is a smart move that will enable this company to expand its presence in the protein snacking industry.
Takeaway tip: Consider a brand refresh and use infographics to spice up your marketing.
Trellis Hospitality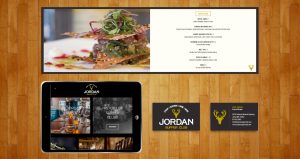 When it comes to restaurant management, Trellis Hospitality has it nailed down.  Trellis currently manages four restaurants: Tamarack Tap Room, Barley & Vine, Woolleys Steakhouse, and Jordan Supper Club & Tap Room. Trellis has an edge over its restaurant group competitors in that the business focuses on small suburbs rather than Downtown development. Our team recognizes the importance of utilizing a modern and bold brand design, which is a defining feature of the unique concepts that Trellis restaurants have to offer. To pinpoint the source of our client's success, check out our award-winning work for all four of Trellis's restaurants, including the Graphic Silver Logo Design Award that we were given for the Jordan Supper Club brand identity. Lastly, see how our team integrated our brand design strategy to effectively resonate Trellis Hospitality's mission.
Takeaway tip: The key to successful, popular brand presentation lies in modern and bold concepts
Angie's Boomchickapop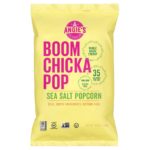 When Angie Bastian and her husband, Dan, entered the popcorn industry almost twenty years ago, their product was embraced by a handful of local stores, but nothing major. The quality of Angie's Kettle Corn wasn't the problem – it was the brand. Fast forward to 2010, and it was ultimately customers' demand for alternate flavors that prompted Angie to consider a fresh start. When a local creative agency, Mono, got back to Angie with a brand refresh proposal and name-change proposals, one of the titles presented was "Boomchikapowpow". At first, Angie deemed the name to be a bit nonsensical, and completely out of the norm. But drawing outside of the lines might be necessary in order to achieve success. With Mono's aid, two years later, Angie's Kettle Corn had finished it's brand refresh and became Angie's Boomchikapop, characterized by its bright, neon colors and bold design. Thanks to Angie's embrace of a rebrand, her popcorn line has been doing better than ever, with a current valuation of $90 million. Angie's Boomchikapop is living proof of the power of rebranding.
Takeaway tip: Consider an inventive name and bold brand identity for your business
Hot Comics and Collectibles
Hot Comics and Collectibles is a local Twin Cities shop that has charmed locals with its comics and toys for years since 1987. With our aid, after over twenty years, the business is now embracing a brand refresh in order to appeal to a younger target audience. Hot Comics and Collectibles is traditionally known for its all-around funky atmosphere; however, with years gone by, consumer demographics have shifted, calling for a more crisp, modern, and clean design. Hot Comics and Collectible's decision to work with DreamBig Creative and craft a new brand identity will enable this local business to effectively cater to its intended audience, and maintain its aura of charm.
Takeaway tip: Stay current and appealing to your target audience by updating you branding
Fulton Beer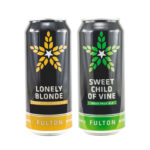 The story of Fulton Beer tells a tale of a 2006 hobby that quickly transformed into a fully-fledged brewery operation. So how exactly did Fulton Beer rise to such prominence in such a short period of time? Marketing Director of Fulton Beer, Tucker Gerrick, makes mention of the fact that it is essential to make your company's packaging design stand out. According to Tucker, beer purchasers judge books by their covers, and 70% of beer is sold based off its looks. Fulton Beer's innovative brand presentation is what makes its beers pop – and so do its sales. Fulton's recipe of excellent quality lager paired with its smart brand exhibition is exactly what attracts success to its business, and the company is set to expand its product line across the Midwest.
Takeaway tip: When it comes to food, a modern, unique, and bold packaging design is essential 
The Good Acre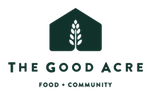 The Good Acre is a Minnesota food hub that is dedicated to emboldening farmers and the greater community by harnessing the power of natural food. Our team loves working with The Good Acre because its message is all about giving back to the community. Check out how our team effectively integrated The Good Acre's mission through our annual report, brochure, and postcard designs. With a smart brand identity that is both modern and clean, The Good Acre's image perfectly reflects its mission: an emphasis and care surrounding farm-to-table deliverer, which enables the company to efficiently aggregate and re-distribute numerous locally farmed foods, and lend a hand to everyone in the process.
Takeaway tip: Your company's story, paired with presentation, is essential to success
Creative Kidstuff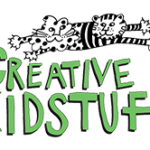 Creative Kidstuff is all about delivering high quality toys to children, steering clear of electronic fancy, and truly enabling kids to unlock their creativity. Enter one of these stores, and whether you're young or old, a childhood enchantment will engulf your being. A single glance at this brand, and one immediately realizes why it epitomizes success: The Creative Kidstuff stays true to its message – to unleash the imagination of children – and the brand's presentation fully echoes its mission, whether it's the packaging or the company's stores themselves.
Takeaway tip: Connect your mission with your brand identity
CoCo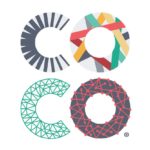 A Minneapolis based co-working space catered to small businesses, CoCo is embracing a brand refresh in order to expand its operations nationally. The new face of CoCo will be known as Fueled Collective, and this brand refresh will transform the locally based business into a national franchise. Investors that are involved in the process have prospects for up to 250 Fueled Collective locations across the U.S. Thanks to CoCo's move for a re-brand, the company can expect a massive extension of its operations. Moreover, all due to a shift in strategy, the brand can now expect to bring in more clients, as well as a sharp increase in revenue.
Takeaway tip: Is it time for your companies brand refresh?