The DreamBig team recently decided that we're going to act as the "Vogue" of the digital marketing industry and give you the run down on the 2016 hottest trends in web design. In true elite magazine fashion, we've put together a list of the 6 best web design trends that can catapult your customer experience and even your sales.
Our team works hard to constantly keep up with the industry trends by researching, experimenting, and creating the best user-friendly designs for each client industry.  We love digital so much because it moves so quickly, and evolves daily. So much so, that when we find out there's something new for us to explore, we jump on it right away.
So without further ado, let's get to this year's hottest web design trends.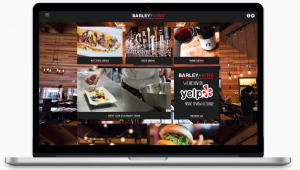 1) The Classic/Multi-Use Piece: Masonry Grids & Card Style Interfaces
Not sure what that is? These styles are similar to the Pinterest "blocks" that separate the pins from one another. They help keep
information engaging and organized by chunking content into separate pieces. This allows viewers to digest  data faster, or find what they're looking for more efficiently. Not only that, but they can be organized in a variety of ways vertically and horizontally, which creates a beautiful aesthetic with a responsive nature.
This look can offer your site a classic and no-nonsense way to compartmentalize lots of information without overwhelming your viewers. Think of this as the "Little Black Dress" or the classic suit of the website world.
Check out our work with the Barley Vine Kitchen + Bar to see this web design play out live.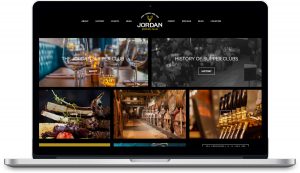 2)  The "Vintage Tee": Minimalist Design
Minimalism has played out in a variety of ways throughout the last few years.  We've seen Apple start and build one of the original minimalist designs, but other brands have followed suit – especially in 2016. Brands such as MVMT and Everlane are rising through the ranks as their entire design is centered around minimalism. They all focus on their product and their content and leave out distractions.
These types of visual layouts are becoming more popular because it allows the key content speak for itself. It's a "no frills" type design, which thanks to Instagram and other social outlets, has become the must-have for this season. Even well-established brands like Starbucks are redesigning their sites, logos and packaging to become more minimalist and focus solely on their content.
This look allows your customers to focus only on the content you want them to. Whether its beautiful images or text, you can choose how you want to draw their attention. This is the "vintage tee" of your website design. It looks good with almost everything and doesn't take away attention from the key accessories.
Our team utilized this web design trend on the Jordan Supper Club site.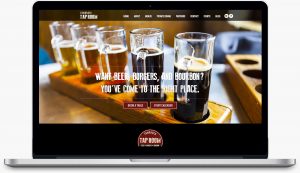 3) The All Black Outfit: Long Scroll
Well, we have to say we're so thankful that long scroll has finally made its way into the cool crowd. Long scroll allows users to continue scrolling endlessly to find the information they're looking for. This often helps with navigation, especially when it comes to mobile. Scrolling is an everyday action when it comes to using our smart phones, so viewers are delighted when finding their information is as easy as scrolling down.
Scrolling also adds to the "story telling" aspect of your website. It allows users to become more interactive with the site, and scrolling often leads them to wonder what else continues down the page.
We like to think of long scroll as throwing on black jeans, a black tee, and black shoes. It's easy to work with, looks trendy, and goes with anything else you want to add.
Check out the long scroll web design here.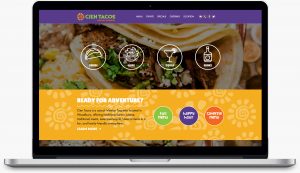 4) Unique Patterns: Iconography
Everyone likes to see icons paired with or instead of words. Not only are they fun, attention grabbing, and increase readability, icons allow you to communicate through an image. If readers are looking for a way to email you, they will notice an icon of an envelope before they notice a small email address at the bottom of the page. Typically, users try to look for the most visually appealing content on a website they have never visited before. They also break up text well and add something fun.
Tip: Designers also love getting to play around and make icons unique – so let them have some fun with this and produce some excellent little images!
We'd say that icons are like a baby pattern for your website. It makes things a little more interesting, and although it's not always needed, patterns certainly catch attention.
Take a look at the Cien Tacos web design and find all of the unique icons.
Humans are ridiculously visual creatures. This means that high-quality images will grab their attention right away. Hero images are large beautiful images that are typically placed at the very top of the page.
These images give you a chance to show off your product or business. It's the first impression and the "vibe" that your viewer will take away as they decide to venture further into your site. It promotes your brand immediately and offers your audience the chance to make their first thought about your business. Hero images also offer a great location for a CTA (Call To Action) button. You can increase the chances of your audience going to other pages if this is one of the first things they see. Hero images are bold, beautiful, and high-quality images that set an expectation.
Hero images are without a doubt the tuxedo of your website. If you see a person dressed in a tuxedo walking in a sea of people at the mall, it's likely that you'll notice right away. Hero images stand out, and they absolutely grab attention.
6)  The Accessory: Microinteractions
Microinteractions are any slight change that happens when a user interacts with your site. It could be a button that changes color when someone clicks it, it could be a box expanding when a viewer hovers on it, the list goes on and on. These interactions are considered a "delight" to a customer. It's an unexpected and interesting piece of your brand that allows them to become more interactive with your business. This design element can draw attention to certain areas, allow you to offer more information without cluttering a page, and also inform users how to navigate your website. These interactions can be formed in a variety of ways, which allows you to differentiate aspects of your site. It's important to invest in an agency or web design team when approaching this trend, as it must be properly executed so it doesn't frustrate or "put off" customers when they visit your site.
Microinteractions are your "accessories." They aren't necessary to your entire outfit, but they add a surprisingly pleasant look and feel, and often times pull things together. They also make the entire production look more thoughtful and classy – since they're extra pieces.
The DreamBig website features many microinteractions, and always surprises our viewers. We have received many compliments on the responsiveness of our site, and love integrating these small details into our clients' web designs.
DreamBig loves working with clients as they explore many of the design options that fit with their brand. We go above and beyond with each design aspect and trend, and always choose wisely to keep businesses relevant, and their customers interested. If you're interested in learning more about any of these trends for your website, shoot us a message and we'd love to hear what you're thinking!