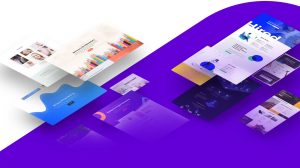 Web design themes are important when it comes to building a truly amazing WordPress web flow. Whether your focus is on blogs or magazines, e-commerce, or professional services, these 5 WordPress themes will transform your site design into something truly spectacular! 
1. Divi
Divi is a go-to, must-have WordPress web design theme that makes any page flow with elegance and ease. The benefit of Divi is that it leverages built-in drag and drop capabilities that can truly customize your website design to the exact specifications that you want! With Divi, you can also save your custom layouts for later. Overall, we highly recommend this WordPress design theme. 
2. Shoppe
This is an excellent web design theme tool that lets you maximize all visual aspects of your e-commerce webshop. It comes with over 60+ regular layouts and 20+ shop landing page layouts. If e-commerce makes up the lifeblood of your business, Shoppe is an intuitive, thematic tool that we urge you to consider implementing. 
3. Astra
Astra is a super customizable theme in WordPress that is similar in nature to Divi, and truly lets you get creative in many different ways when it comes to creating the perfect webflow. The great thing about Astra is that it comes with demo web design themes that you can work out of instead of starting from scratch, making the design process even smoother and easier for you. 
4. Hestia
If your website design focus is on blogs and magazines, or professional business websites, then the Hestia theme is right for you. Hestia also seamlessly integrates with e-commerce stores and functions beautifully with Live WordPress theme customizer. 
5. GridLove
According to isitwp, "Gridlove is a beautiful and elegant WordPress theme for magazines, editors, publishers, personal bloggers, and news websites." Grid layouts are an excellent way to eliminate whitespace and create a flowing web design that is easy to follow yet visually appealing
To conclude, themes are important things to keep in mind when crafting webflows and website designs. To learn more about how DreamBig can help you in your web design journey, check out this link https://dreambigcreative.net/client-portfolio/web-design/